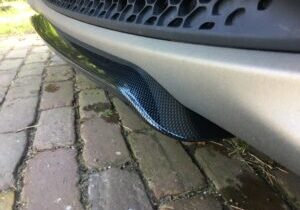 Front spoiler Carbon N453-08-00/C
A simple way to Get some downforce on the front of your Smart fort wo  453. The front spoiler Originally designed and manufactured by S-mann. The front spoiler is available in silver to match the tridion,  carbon look and mat black,  so you can paint your own to match the panels. Skrews and a S-mann sticker are included.
IMPORTANT!
Be aware of illegal copies on the market being offered as s-mann (or michalak) products. The quality of these copies is very poor and they might damage your cars paint work! Fiberglass copies have pinholes in and are hard to paint proper. Buying, selling and trading of these parts is illegal and forbidden by law!
€ 125,00 ex. Taxes
€ 151,25 inc. Taxes